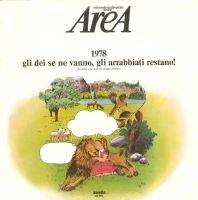 The fifth album from this Italian band and their final album with Demetrio Stratos who passed away in 1979 after a fight with cancer.
This album is also regarded as the final classic Area album. And it very much follows up what the four first albums did. That means Demetrio Stratos wild vocals on the top of some avant-garde rock and jazz. The music is very playful and joyful. The instruments and the vocals are all over the place. Still within a clearly defined song structure. The music is created by a multitude of different instruments and vocals expressions.
The opening track Il Bandito Del Deserto is both a great song and a good example of how a catchy tune also can be combined with intelligent melody structures. The rest of the album follows in the same vein too. Lots of catchy stuff combined with very intelligent structures. Not to mention intelligent solos. Demetrio Stratos also sings beautifully here.
The end result is a great album from a band I think is still a bit undervalued. Their first five albums has a legend status in my view. Check them out.
4 points