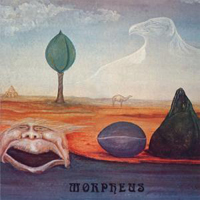 The debut album from this German band who released two albums before they were disbanded.
Fusion can mean a lot of things. From pretty intense music aka the three first Mahavishnu Orchestra albums to elevator/shopping mall music. Morpheus has chosen a more krautrock approach to their fusion. The solos is spread pretty even between the saxophone and the guitar. Bass and drums is supporting them and there is no vocals here.
This being a private vinyl pressing, later re-released on a CD, the sound is a bit dodgy. But we get the gist of the music, pretty load and clear.
The saxophone solos is pretty good. The music itself is not particular exciting. The mix of fusion and krautrock is pretty uninspiring in the case of this band. It is pretty obvious why this band is merely a footnote in the history of modern German music. I find this a pretty dull, but still decent album. Check it out on Youtube if this is your cup of tea.
2 points