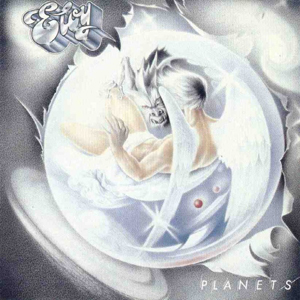 The ninth album from this German band.
Eloy has had a very high standard on their albums throughout the final part of the 1970s. Several great albums was released.
I was a bit sceptic towards their 1980 album Colours though. Mostly because they had moved away from what I regard as the Eloy style. My worries has been laid to rest by this album though, Planets. An album where Eloy takes their music to other planets again.
Eloy combines space rock and symphonic prog pretty well on this album. Great vocals and keyboards again. It is very symphonic at times with some barnstorming keyboards runs. The guitars, bass and drums are good too. The music is at times pretty commercial though with some clearly defined song structures in amongst the space rock here.
My only gripe with this album is the lack of any great songs. This is not an album on par with Dawn from 1976. It is still a very good album I find very enjoyable. This is what I call a worthy Eloy album and one you should check out.
3.5 points