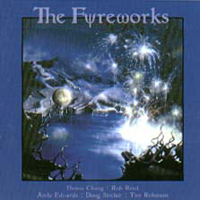 The only album from The Fyreworks, one of Rob Reed's side projects.
Rob Reed is very possibly a genius. Last year's Kompendium album Beneath The Waves was the best album of 2013 and a coming classic in the prog rock genre. His work with Cyan and Magenta has also produced some great albums.
Which is why I am not sure what he meant with The Fyreworks. Is it left overs from other projects ? I don't know. This album has a lot of same type of the ideas he developed as Kompendium sixteen years later. The mix of neo prog and symph prog with a lot of celtic music thrown into the mix too. Yes, the best parts here very much reminds me about Kompendium.
Then this album also got some really cringe worthy recycled, generic neo prog too. It is like taking some of the worst of this genre and dusting it off for a relaunch. You get some of it on this album. The keyboards runs, the guitars and the bass lines. Not to mention the drums. This is neo prog as we want to forget it.
Then we get the fifteen minutes long Broken Skies who very much points towards Kompendium, sixteen years later. That is a great epic with celtic and symphonic prog. That is great fifteen minutes.
So we got that epic and some really not so good stuff. The law of average says a good album. I will drag it down to a very decent album and nothing more than that. Not everything Rob Reed touches turns to gold. This album, for example.
2.5 points