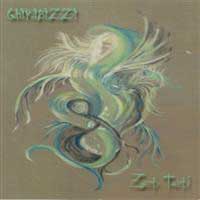 The debut album from this Belgium based band.
The band is listed in ProgArchives neo-prog genre and I thought maybe it was time for some neo-prog now after some recent hard slogs with other genres. I like variations in my life.
This is a three piece band with keyboards, guitars, woodwinds, programming, percussion and vocals. No bass, strangely enough. The bass is programmed, it sounds like. That is a bit of a spicy combination.
The sound is not particular great here with the vocals pretty much in the back of the mix. So much that the vocals is hardly in the mix at all. The piano and keyboards is very much pushed forward in the mix. A mix which is pretty terrible, all around.
Then we have the music on this forty-five minutes long album. The band tries something new here.... well, they are not a standard neo-prog or even a rock band. They have taken a chunk of Saga, some chunks of Ange and some vaudeville music. Not to mention straight rock'n'roll. And yes, there are some neo-prog here too. There are even some ballads here. Ballads killed by the mix.
The mix is terrible and none of the songs here are really any good. Yes, some of them are catchy. But not in a good way. This is a decent album though and I am looking forward to hear their other albums. This album is not my cup of tea, though.
2 points