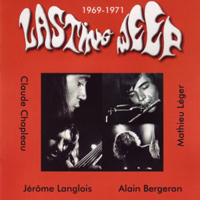 The second of the posthumous albums from this Canadian band.
Lasting Weep were the forerunner to Maneige who got considerable more success than Lasting Weep ever did. The foundations of Maneige can be found on those two Lasting Weep posthumous albums, though.
Lasting Weep played a mix of folk rock and fusion. The music is very much progressive rock with some psychedelic and space rock included too. There is plenty of flutes, guitars, bass, woodwinds and drums on this instrumental album.
The sound quality is not particular good and it is obvious the record label has been scraping the bottom of the barrel here. The music is pretty good though, although not anywhere near the level Maneige operated on. These seventy-six minutes is a bit of an ordeal too at times. Half of it is a live recording and the rest is demo tracks. Nevertheless; this is a decent album which fans of Maneige would find an obligatory purchase.
2 points