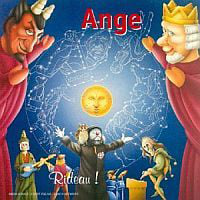 The fourth live album from this French band.
Ange was and still is one of the best French bands of all time. Their and the French scene's take on symphonic prog was very French with a mix of theatrical music, English symph prog and folk music in the Jacques Brel vein. You cannot nothing but be impressed by their first studio albums.
Rideau is a shortened version of the much longer live album Un P'tit Tour Et Puis S'En Vont from the same year. A bit more compacted down to seventy odd minutes. You get some soaring guitars and keyboards here on the top of Christian Decamps superb vocals. Live, his voice sounds a bit more forced than on a studio record. But it is still more than good enough. The sound is also great.
The end result is an enjoyable seventy odds minutes with this band. This album is by no means a great live album. It is still a good album which should light up the day for any Ange fans. Check it out.
3 points