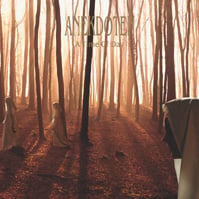 The fifth and so far final album from this highly influential Swedish band.
The band's first two albums, Vemod and Nucleus, signaled the return of Scandinavian prog rock and were two very good album. Get them !
In 2007, the band had moved on again and into a much more Marillion, Radiohead and a more post rock direction with A Time Of Day. The mellotrons is still very much present here. The music is a lot more stripped down and based on moods. Post rock moods, that is. The music is very pedestrian at times. The vocals in the college rock mould and very restricted. Less is more is the obvious motto here on this forty-five minutes long album.
The band has retained the Swedish melancholy. This is very much an Anekdoten album. Unmistakenly so. The songs are good throughout. I feel the band has moved a bit too much towards mainstream post rock kind of rock here. The songs are only good and there is no real killer songs here. Hence my verdict. But I am happy to lend my ears to this band and I hope we will soon see a return of Anekdoten.
3 points