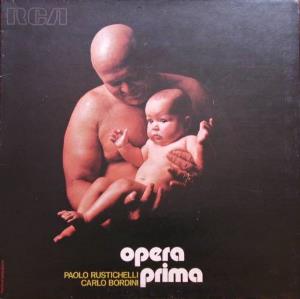 The one and only album from this Italian band. This duo consist of they keyboardist Paolo Rustichelli and the drummer Carlo Bordini. A bit of an unusual setup, you can say.
The main emphasis here is on keyboards though. That and the Italian vocals. They are backed by drums, mellotron and piano. In particular piano plays a great role in this opera. Or on this album if you want.
The music is bombastic symphonic at times. But not in the ELP vein. More in the melodic vein of the symphonic prog spectrum. There is a lot of vocals on this album. More than usual in music like this. There os also a great pastoral cathedral feel over this album.
It is a pity that there is no real great melodies here. That is my only gripe with this album. An album which is rightly regarded as one of the lost gems in the scene. Check out some of the songs on Youtube and you may agree yourself. It is a very good album.
3.5 points