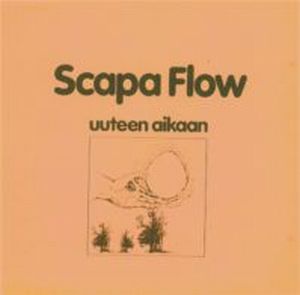 The one and only album from this Finnish band.
Scapa Flow is a natural harbour in the Orkney Islands, Scotland used as the harbour for the British fleet during WWI and WW2. I don't know why the band chose that name, though.
Scapa Flow was a six piece band and I am here including the guest musicians too. The band itself was a three piece band. The lineup was flutes, Finnish vocals, bass, guitars, keyboards, drums and saxophone.
That may give you the impression that this is a fusion album. It is not. There are some strong hints of cool jazz here. But the music is most of all a blend of pastoral symphonic prog and folk rock. There are some very strong hints of Genesis anno Trespass.
The flutes are great and so is the guitars. The sax adds some spice to the proceedings too. The album has a good warm feeling and offers the listener a lot.
There is no really great songs here though. This is a good half an hour long album which I think should have a lot more listeners. Genesis fans should really check out this album.
3 points