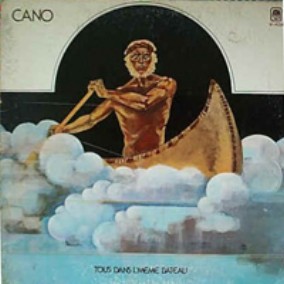 The debut album from this North Ontario, Canadian band. A band who released seven albums or so if I am not much mistaken.
Cano, named after a very useful type of vehicle/transport method on the lakes and rivers in that part of Canada, was an eight piece band on this album. They were joined by four guest musicians.
The main instruments here are keyboards, electric and acoustic guitars, violin, mandolin, piano, bass, drums and lots of French male and female vocals. Even seagulls are listed as instruments here. Well, I guess they are a permanent feature in the sound of Ontario.
I reviewed their second album five years ago, in September 2010, and liked what I heard. I noted the similarities to Harmonium.
That similarity can also be found on this, their debut album. But it is a rather faint similarity. What we get here is a mix of folk rock and country. Too much country in my view as I cannot stand country. We also get some very good vocals and vocal harmonies here too.
The songs are all around good. This is an easy album to like, even to love if folk rock is what makes your heart beat. I like this good album.
3 points