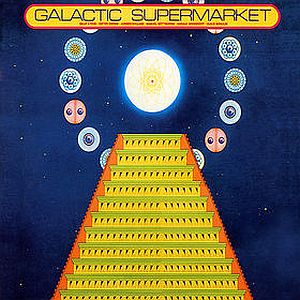 The second album from this German band. A band who released five albums in 1974 and then split up.
I did not like their debut album which I reviewed back in 2012 during the first year of this blog. I hoped that my musical preferences had changed after three more years with krautrock as one of the main dishes on my plate. Well.......
The Cosmic Jokers had the likes of Dieter Dierks, the famous The Scorpions producer, on bass and Klaus Schulze on synthesizers. There was also a guitarist, drummer, keyboardist and some vocalists here too.
This album contains cosmic, spaced out krautrock. It has two suites, each lasting around 20 minutes. The first one, Kinder Des Alls, is chaos and not particular interesting. The second one is a different kettle of fish, though. The suite, the title track, has some really cool stuff and is a good cosmic space workout.
I have to admit I am warming more and more towards this album. In particular, the title track. I would not rate this as a good album though. But it is a decent to good album. I am glad I persevered with it when I wanted to throw this and the three other remaining album on the Irish Sea after the first listening sessions.
2.5 points