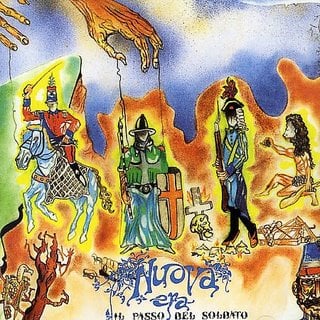 The fourth and so far final album from this Italian band. There are some talks of a new band being recorded. But that is just rumours at the moment.
We are deep into Italian symphonic prog rock again. Nuova Era is regarded as one of the best post 1970s bands in the Italian prog rock genre. And with good reasons. Their previous three albums was great albums.
This is a concept album, lasting fifty-three minutes. The music is very much in the classic Le Orme tradition. A tradition again based on ELP. The music is very heavily based on keyboards, helped by some bass, drums and guitars. That and some great vocals from Claudio Guerrini. Where does these Italian bands find these great vocalists ? The opera scene in Milan and Rome has a lot to answer for. And that is, as you will understand, a great compliment.
The music is pretty heavy baroque throughout. There are also some great songs and melody lines here. The album is a bit of a slow burner and a grower. But it really get into a full fire after some listening sessions. Most great albums is like that and this album is no exception.
This is a great album from a great band.
4 points