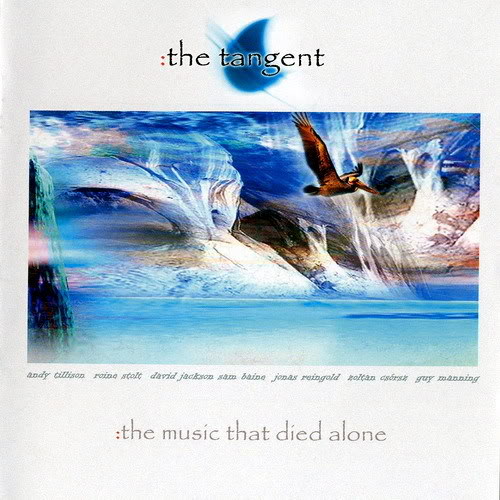 Mirror, mirror on the wall...... who is the best post millennium British prog rock band ?
The Music That Died Alone is the debut album from The Tangent. At that time, a super group which included Roine Stolt, David Jackson, Jonas Reingold, the later prolific musician Guy Manning and this band's primus motor; Andy Tillison.
In short; veteran Swedish eccentrics meets veteran English eccentrics and forms a band. The result is a blend of Swedish prog rock (Read: Kaipa and The Flower Kings) and English prog rock. In particular; the Canterbury scene and the symph prog scene.
To claim that The Music That Died Alone is a debut album is disputable with the decades of experience between the musicians here. The Tangent and this album is what the musicians has got out of their experience.
The result is a forty five minutes long album divided on three long pieces of music. The music is very melodic and epic at the same time. It is not an album that puts the emphasis on twists and turns. It is still a very interesting and captivating album. One with a lot of details and poise. One with superb melodies. It is one stunning album.
Andy's vocals is great. The rest of the band is doing a superb job too. It is an album that heralds a new era and a new band. A band which is one of the best bands in today's prog rock scene. One of the five best bands, that is. I am a fan and one of the reasons is this album. It is highly recommended.
4.5 points