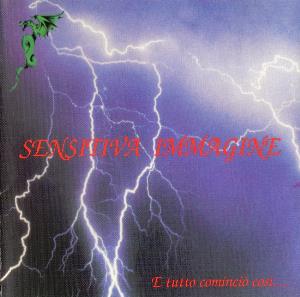 Another obscure Italian band from the 1970s who only released one album. The album was originally released as a tape sometimes between 1977 and 1980. Nobody knows for sure. I got the 1998 version, a CD album with bonus tracks.
We are again in Rock Progressivo Italiano territory. This CD was sold to me on the promise on Genesis adulation. I am both a fan of early Genesis and Rock Progressivo Italiano so I snapped the CD out of the fingers of the seller. I am not sure if he still got five fingers.
The seller was right on both account. This is Rock Progressivo Italiano with the Genesis sound and good Italian vocals. It also have the Rock Progressivo Italiano sound too. The sound is reasonable good, the original being a cassette and I doubt the record label got hold of the probably long erased master tapes. In short; the sound is reasonable good, but not great. It does not sound good in a big Hi-Fi system.
We get long keyboards runs and good vocal harmonies with guitars, bass and drums. The quality of the songs are not good, though. Even with the punk and disco revolution taken into account, there is a reason why this album was only released on tape. It is simply not good enough compared to the other Rock Progressivo Italiano albums from that time. This is still a decent to good album which will appeal to the Rock Progressivo Italiano fans.
2.5 points