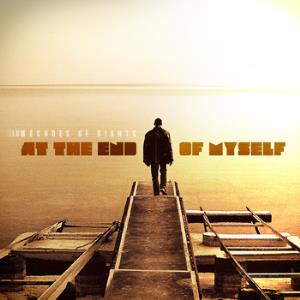 Another debut album from USA in the modern prog genre. Echoes Of Giants is a trio with a hired vocalist.
Modern prog normally means a mix of Marillion, Radiohead, Porcupine Tree and Pink Floyd. In the case of Echoes Of Giants, it is a case of Pink Floyd, Marillion, Radiohead, AOR and indie rock. Eagles and west coast rock also creeps in here and so does Gazpacho from Norway too.
The music is performed with Joey Myers great vocals, programming, guitars, drums, keyboards, percussion and bass. The music is mellow and softly spoken throughout. There is a lot of shoegaze in this music and some post rock too.
This creates a very inward looking, soul-searching album where the lyrics and music is pretty powerful. It creates a good sound and a mellow mood. Not an uplifting mood, but rather a more reflecting, somber mood.
In other words; At The End Of Myself is a post-millenium album which fans of Yes, Genesis & the old prog may have problems getting their heads around. In my case; this is the case. According to other reviews, At The End Of Myself is a modern classic. They may be right. They may be wrong. I would still recommend this album to everyone as it is a very good album from a band I am sure we will hear a lot from in the future.
3.5 points