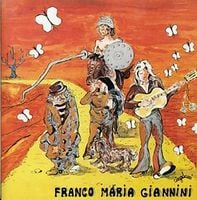 The one and only album from this Italian artist.
Affresco was actually the most sought after and rare Italian prog album for a while until it was re-released on CD some years ago. People paid fortunes for a copy of the vinyl version, pressed in only 700 copies.
I have no idea why, though. Affresco is an half an hour romp through some hard Italian folk rock/pop landscape. Franco's vocals is great. The lyrics is in Italian and the vocals is the only pleasing thing about this album. The music is Italian pop/rock anno 1974. The stuff we got through Melody Grand Prix and worse. There are some violin and mandolin here to give it some female hearts stopping effects. The rest of the music is produced by guitars, strings, bass, drums and some keyboards.
The songs are not particular interesting and the vocals is the only interesting thing on this album. This is a decent album though who does not live up to it's hype. If Italian pop is your thing, you cannot go wrong with this album.
2 points