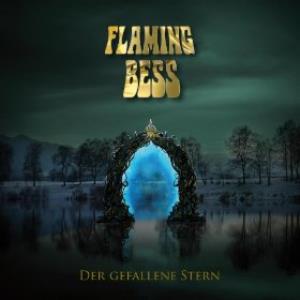 Their sixth album since 1979. I suspect this German band has been an on and off band, sporadic returning back to life again after long periods of inactivity.
Flaming Bess has always been into sci-fi and Der Gefallene Stern is a concept album about stars and the outer space. Concept album with spoken narration and all that. Spoken narration in German. All lyrics are in German too and that is a very good thing. My German is a bit rusty though and I could not be bothered to call upon one of my neighbours to get the lyrics translated. I am sure they are great lyrics.
The music is performed with synths, guitars, bass, drums and a lot of female and male vocals. The music is a mix of AOR and symphonic prog. Far too much AOR in my view. The songs falls into the AOR category. But there are some very tasty instrumental symphonic prog parts here too throughout these seventy-seven minutes this album last.
There are some great music here and some less great music too. I find the overall quality very good though and would recommend this album to you as it is a real grower on me. That during the three weeks it has taken me to form an opinion about it. Check it out yourself from the normal shops.
3.5 points