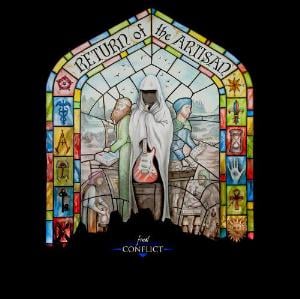 The sixth album from this British neo prog band.
There is a lot of relative unknown neo prog bands in Great Britain who has never really got the same fame as Marillion, Pendragon and Pallas. Final Conflict has been around since the late 1980s without really getting much attention.
They did not get that much attention after the release of this album either. Which is a bit of a shame because the music on Return Of The Artisan is highly potent neo prog in the good old traditional vein. Maybe that is why they have not got that much attention.
We get nine medium long tracks on an album clocking in on one hour. The music is performed with keyboards, guitars, bass and drums. That in addition to Andy Lawton's very good vocals. So far, great.
The songs are all good to very good in the epic neo prog vein. A bit Pink Floyd sneaks in on most tracks here. A killer track is sorely lacking from this album. The songs are good enough for me to check out more from this band. Neo prog fans should most certain check out both this band and this album. They have a treat in this album.
3.5 points