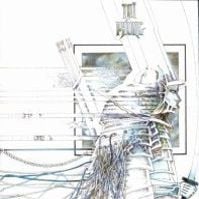 The debut album from this French band who altogether released four albums.
The strange name Tai Phong comes from the fact that the band was lead by two Vietnamese brother. Vietnam was as we know a previous French colony.
Neither this album or Tai Phong sounds like a French symphonic prog band. I would compare them to Novalis, Barclay James Harvest and Camel. A mix of art rock and symphonic prog rock.
This album includes a sort of a smash hit song in the form of Sister Jane. This and the other songs are elegant rock with good vocals, great keyboards, good guitars, bass and drums. The album sounds a bit dated and very much like 1975.
The songs are reasonable good, Sister Jane being the best song here. I also like the final song Out of the Night a lot. That is an eleven minutes long symphonic prog epic. A weak good is awarded.
3 points