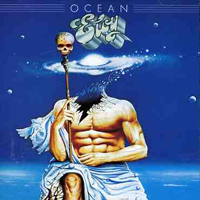 Their sixth album and the follow up to the great Dawn album from 1976.
Ocean follows in the footsteps of Dawn. At least the first track Poseidon's Creation which sounds like a track from the Dawn session. Both the track and album thankfully takes on it's own identity halfway through the twelve minutes long Poseidon's Creation. A great track, btw.
The music is as on Dawn dreamy, melodic space rock with some strong krautrock and symphonic prog influences. It is like hearing Pink Floyd at their best. This is a concept album about the ocean as far as I know and the big wide ocean is a theme when it comes to the music too. Everything floats away like this album and I love this album. A killer track would had been nice. But fans of Pink Floyd and dreamy space rock should embrace Eloy and this album.
4 points