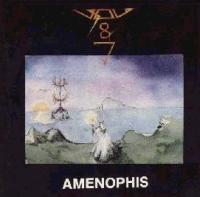 The second and final album from this German band.
Their self-titled first album was a rather good symphonic prog album. Very little is left of that album on this, the follow up album. They have got a female vocalist who share the vocalist duties with a male vocalist. The sound is very much in the 1980s spirit of things. A bit plastic, synthetic sound.
The music is rather all over the place with some very light hearted pop which falls flat on it's face. There are some ELP like melody lines here too. Some parts of the music reminds me about Renaissance at their Tuscanny era. The rest of the music is rather radio-jingle like with some rather cheesy melodies and licks. That and some blues stuff.
The end result is a poor album which leaves me rather sad. There is nothing really here to be happy about. This album is a turkey and it does not fly. Avoid.
1 point