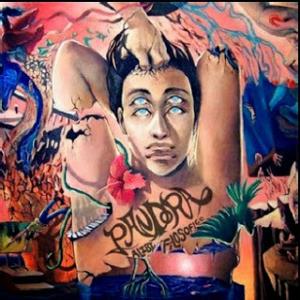 Their third album.
Pandora is an Italian symphonic prog band. One of the new Italian symphonic prog bands and it is lead by Beppe Colombo, Corrado Grappeggia and Claudio Colombo. On this album, they have got help from Arjen Lucassen, Dino Fiore from Castello Di Atlante and David Jackson from VDGG. That among many others as Pandora has really pushed the boat out on this album and gone for a very big sound. An orchestral opera sound.
We are really talking symphonic here as in big, complex and non-melodic classical opera. That is what this album is. It is almost zeuhl at places. It kind of feels like zeuhl too. This music also has a chamber rock feel and a opera feel too. It is an album who in many ways has left the rock genre behind and sought out the classical music and opera for a new home. This is an opera.
The end result is a very complex album who kicks in all direction. It is an album where complex overrules melodic. Unfortunate, the quality is not as great as I had hoped. That even after almost two months of listening to it as I got this as a promo download.
For me; this is only a good album with some sporadic very good stuff. There are also some less good stuff here. Alibi Filosofico should appeal to those who prefer complex music instead of great melodies and hooks. I want both complex and melody and this album is just giving me one of those two preferences.
3 points