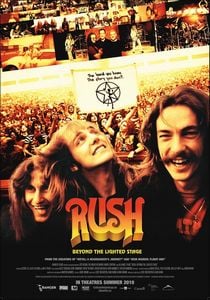 The movie about Rush which I bought three years ago but has not watched before now after I got myself a home cinema.
In my view; popular music has produced three brilliant bands. The Beatles, Led Zeppelin and Rush. Rush is a mix of The Beatles and Led Zeppelin. They are also my all time favorite band. Their music always gives me new inspiration and new life. They have opened my life to new music. Without Rush, I would never have become involved in ProgArchives and met up with good friends like Raffaella Berry, Andrea Parentin, Micky Berry and the many others friends I have got through music. In short; Rush is not only a music band to me. They are a large part of my life and will always remain so.
I kind of feel a kinship with Alex, Geddy and Neil too. They are my kind of people. I am pretty sure I would had struck up a bond with them immediate after meeting them if we ever met (after I had confessed my admiration for them and stopped pinching myself, that is). There is a handful of people I admire. Geddy, Alex and Neil is three of them.
One of the reasons is that I don't think this planet has ever seen a band who are so technically perfect as Rush. Even more technical perfect than Led Zeppelin. But their smartness is also combined with great melodies. Melodies which speaks to me.
Beyond the Lighted Stage is their story as told by the band with music included. We hear about Neil Peart's shyness (and taking part in this movie cannot have been easy for him). We connect with the band. We hear great music; their music. We hear other bands and musicians admire Rush. We feel that we Rush fans are not alone. After all; Rush is a cult band. Out and out a cult band.
Beyond the Lighted Stage is their story and also their way of letting us fans into their world. It is doing that job on their terms. Terms I as a fan agrees with because I feel I have bonded with Rush as a human being since I got my first Rush album almost 25 years ago. I am old and I have grown old with Rush.
I love Beyond the Lighted Stage and it is a great fan memento from a band who are still going strong.
5 points