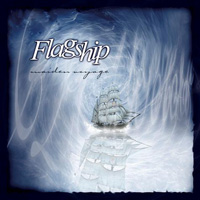 The so far only album from this Swedish band.
Described as symphonic prog, I took the plunge and purchased it. What I got was not symphonic prog. The music here is performed with keyboards, guitars, bass and drums. That and angel like male choirs and vocals. This band consists of two members from the Christian power metal band Narnia. Hence the lyrics which is sugary sweet and banal Christianity. Not particular clever vocals and totally over the top.
Both the vocals and the music reminds me more about what you get in a church or on a Christian festival. Despite of Kerry Livgren from Kansas guesting on some of the tracks, the music is banal and easy listening Christian AOR. No less and no more. OK, with some Genesis influences. But not many.
I may be a Christian myself. But I am not buying into the crude, simple and well over the top fifty minutes of music this album offers up. Yes, there are some clever details here. But most of this album is sugar, sugar and nothing but sugar. There is no real musical substance here and I have heard too much of this type of racket in churches and Christian festivals (where a well meaning ex employer sent me to report from). This is barely a decent album.
2 points