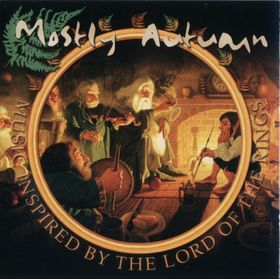 Is this a Mostly Autumn album or not ? Anyway, this is their fourth album.
It is also a pretty big diversion from their previous albums. What we get on Music Inspired By The Lord Of The Rings is a lot of instrumentals. All of them classical music inspired. There is not much Heather Findlay here or celtic folk music. The music is mostly orchestral instrumentals with a full orchestral sound. Sometimes with some male and female vocals. A couple of compositions here sounds like Pink Floyd and there is even a couple of hard rocking songs here.
This album sounds like a stop gap album which should not be taken as a serious Mostly Autumn album. I am by no means impressed by this album. It is in my view neither interesting or good. Nevertheless, it is a decent album and barely that. Avoid it if you want a proper Mostly Autumn album.
2 points