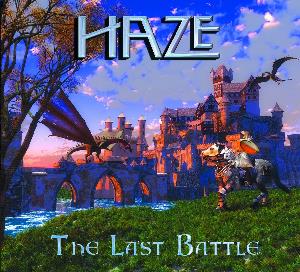 The sixth studio album from this English neo prog band.
Haze was indeed among the first neo prog bands in England and in the world. Their first album was released in 1984 and the band has been on and off since then. They really never got their commercial breakthrough like Marillion did. They are in the second or even third division of neo prog bands.
The Last Battle is a proper studio album although it sounds a bit like a collection of songs from various periods of their career. It is obvious that Haze has collected everything they got from various writing sessions. The majority of the songs are neo prog in the folk rock vein. Some songs are more in the prog metal vein and they feels out of place with the rest of this album. They should had been dropped from this album too.
The majority of this album is folk rock influenced neo prog though and the songs are good. The opening song The Last Battle, the title track, really sets the tone for most of this album. A very guitars orientated album where the keyboards are well in the background. There are also some cello, flutes and fiddles here. The vocals are great.
The Last Battle is very much a neo prog album in an apple orchard and a very good album too. It comes recommended from me.
3.5 points