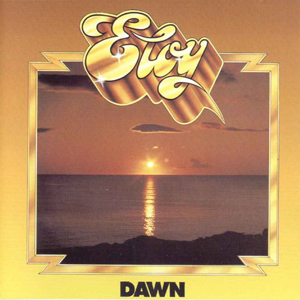 The fifth album from these German space rockers.
Dawn is really a fitting title on this album. This album has the sound of the sun rising up again after a cold night. The rising sun means our bodies is getting warmed up and we all feel the heat spreading around in our bodies. That is the essence of this album in my ears and mind.
In short; this is gentle, slightly ambient space rock with long thematic guitar and keyboards runs. Yes, it sounds like Pink Floyd at times. But Eloy has finally found their own style on this album. A brand of space rock I really like. A brand of space rock with a bite, but still gentle enough for me to float away into the sunrise.
From the first tone of this forty odd minutes long album, we get gentle space rock with vocals. The English vocals comes with a pretty heavy German accent. They are nevertheless great vocals. The bass, drums, strings, guitars and keyboards is great too.
The end result is a great album where Eloy really establish their credentials. My interest in them has been rekindled, it is safe to say.
4 points