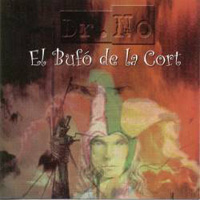 A one of album Spanish project with members from Harnakis.
We are in neo prog land again. Just like Harnakis was a neo prog band. No coincidence, btw. The music is heavy laden with keyboards and guitars. The neo prog sound is the English one. The vocals are Spanish. The music sounds as a mix of a lighter version of Marillion, the Fish era, and Genesis, the two first Collins albums.
The album starts out as Marillion light and it is pretty poppy and light on substance. Some Spanish pop music shines through. The final songs are more symphonic and heavy. There are also some long instrumentals in the middle of this album. Another trademark on this album is the long guitar solos. The vocals is not particular good though. They are the weakest point on this album. A more prolific vocal would had done some wonders for this album.
The songs are good though and it is quite an enjoyable album which really never raises it's head over the good status. It is well worth checking out if Harnakis is your thing.
3 points