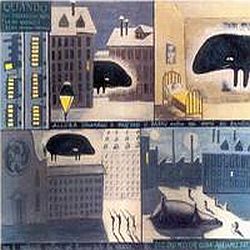 The debut album from this Italian band with the long and very forgetable band name. What is wrong with a band name consisting of one or two names ? The Beatles band name did not hurt their career.
Sarcasm aside.......
We are deep into Rock Progressivo Italiano land again although the album artwork gave me a lot of associations to the Canterbury band Picchio Dal Pozzo. Incidently, they too are from Italy. And yes, the overriding mood on album is pretty Canterbury. The sound is very dark though and bring me a lot of Area associations. Ditto for punk and folk punk associations too. But mostly Area at their most freaked out. Not in a jazz sense though. It is more associations to Area at their most avant garde.
The vocals on Dio Dio Mio, Che Cosa Abbiamo Fatto is male and pretty theatrical. Not as in operatic, but more like in a musical folk halls sense. The music is performed with a lot of acoustic instruments like acoustic guitars. The bass are also very dominant here. Most of all; the vocals drives the music.
The result is a good, pretty folk avant garde dominated album in the good old Area mould. An album it takes a lot of time to really get into. Hence, it is a grower. A couple of killer tracks would had elevated this album to being a great album. I do understand why this album is so highly rated though and I will check out their new, 2013 album La Maschera Della Morte Rossa.
3 points