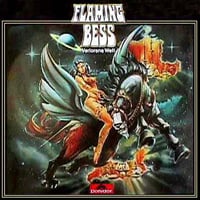 The second album from this German symphonic prog band.
On their first two albums, those two I have heard, Flaming Bess comes across as a German's answer to Camel. Quite funky guitar lead symphonic prog.
Instrumental symphonic prog, that is. There are some German narration on this album and some female voices which is used as an instrument. Besides of guitars, plenty of electric guitars and solos, the music is also full of keyboards, bass and drums.
The end result is a pleasing good album which is easy on the ear and not too taxing on the brain. Not particular technical, in other words. I quite like this album and give it a good award.
3 points