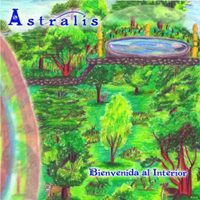 The debut album from this Chile based band. The band has just released their new album, their third album, and I thought it was a good idea to check up their debut album before reviewing their new album.
Astralis has heard a lot on Pink Floyd, their more melodic and airy songs. Their roots is in neo prog and they probably fits into that scene. Though at the more epic melodies spectrum of that scene. There are a lot of good guitar solos on this album and the vocalist sings in Spanish, his local language. There is a South-American sound on this album and that makes it a welcome change from the more normal neo prog.
The sound does not let this album down although I am sure the band would like some more cash to re-master this album. The vocals is far too deep in the mix for my liking. The superb vocals, btw.
The two opening tracks Bienvenida Al Interior and Nocturno Urbano is superb with it's long guitar solos (praised be Patricio Vera-Pinto who also does the vocals) and Pink Floyd themed melody lines. The rest of the album is not that great with far too much Marillion adulation and some more English folk rock vibes. But this album never gets really boring and I have found a new very good Chilean band in Astralis. Check them and this album out.
3.5 points