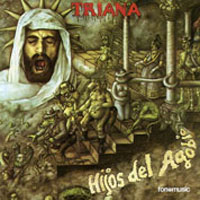 The second album from this Spanish band.
I reviewed their first album for ProgArchives
some six years ago and very much liked that album. It was one of the first non-English vocals albums I had ever heard and that got me more into the Spanish and then the Italian scene. Those are still some of my favourite scenes.
Triana has very much been the pioneers in the Spanish prog rock scene. A lot of other bands has picked up from where Triana left it and continued in the same vein. This album resonates a lot in the scene even today. Take a big chunk of Spanish folk music with flamenco and passionate Spanish vocals. Then add some rock and progressive rock from England. Voila.... you got this album.
The emphasis is on Spanish folk music though. The music here is very progressive too. It also got some very nice melodies. It is obvious that both King Crimson and Genesis has been a big influence on Triana and this album too.
Both the sound and the songs are good on this half an hour long album. It is an album which sounds a bit dated and it does not really have any great songs either. It is still an album well worth checking out.
3 points