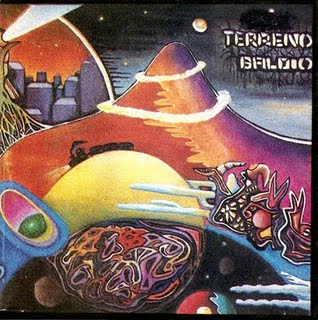 The debut album from this Brazilian band who many says is the South American answer to Gentle Giant.
I do not disagree much with that. This band, who sadly only released two albums, was a five piece band consisting of a keyboards, guitars, drums, bass, xylophone and Portuguese vocals.
The music on this thirty odd minutes long album is not as eclectic as Gentle Giant's music. There is a lot of Yes and Genesis in their music too. Not to mention some jazz too. The music is very much local too with a lot of South American and Brazilian vibes incorporated into the music. The vocals are a bit thin and the sound is surprisingly great, this band coming from Brazil in the 1970s which was a difficult time for Brazil.
The result is pretty colourful to say at least. There is no really great tracks here. The quality is good throughout and I am warming a lot to this album. It is an album which needs to be heard to be believed. It is a good winter warmer too and one I feel is giving me some good warmth. This is by no means a classic debut. Nevertheless, it is a good one.
3 points