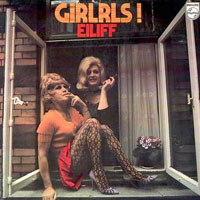 The second and final album from this German band and the follow up to the very promising, great self titled debut album from the year before.
Listed as a Krautrock band in ProgArchives and other places, this album is a bit of a deviation from krautrock. Move your eyes of Germany and move them towards Kent in England. The shire named Kent, that is. The music here is very much like Soft Machine anno Six and Seven. Very intense jazz at times. I have also heard that this album has been compared to the albums Nucleus released at that time too. Soft Machine was Nucleus at that time too so I am not surprised. I will check out Nucleus too in due time.
There again, we also have some typical krautrock meanderings here too. The band dabbles into techno krautrock avant-garde too. And there is some rock too.
Half of this album is krautrock and the other half is Canterbury jazz. The quality is very good throughout though and I really value the two Eiliff studio albums I got. A great band.
3.5 points