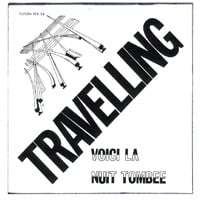 The only sign of life from this French band. A one hit wonder band.
The jazz scene in France was in full flow in the 1970s. Some of the bands was a looking across the English Channel too and towards Canterbury, Kent. This three piece band was one of them.
Soft Machine is an obvious reference her. So is Moving Gelatine Plates. But Travelling's music is a lot easier and more prog orientated. It is in my ears proper Canterbury prog.
The vocalist sounds a lot like Robert Wyatt. The bass, drums, piano and Hammond organ makes a pretty small soundscape. The music is built around the piano and the Hammond organ. That makes it a bit Canterbury-light.
Small is pretty effective on this album. There is some really good melodies on this half an hour album. Good melodies full of intricate details. This is not easy listening music.
The Hammond organ is played like Mike Ratledge in Soft Machine. The same sound. Excellent solos they are too. The end result is a very good album which capture the wild spirit of the Canterbury scene and the French jazz scene. This is really a hidden gem, just waiting to be explored.
3.5 points