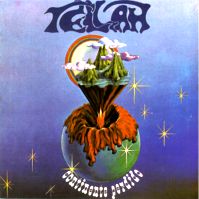 A Brazilian band with one album before they vanished without a trace. One of many one album wonders bands in this blog, I cannot fail to notice. Obscure bands and albums is what I like most and that comes with a price.
Tellah was a three piece band with piano, vocals, synths, keyboards, drums, bass and guitars. The result was this forty-five minutes long album.
That is forty-five minutes of South American progressive rock. Their music is neither symphonic or even eclectic. It is vocals based progressive rock with a lot of folk rock and pop influences. The music is rather sweet and in the South American pop/rock vein.
The vocals are good. The rest not so good. The songs are decent enough. There is no good songs here and the album is an obscurity, only to be enjoyed for those into South American prog rock and rock. I am not one of them.
2 points