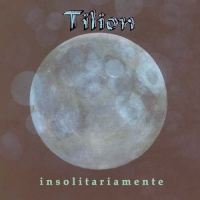 The first of two albums from this Italian band.
Tilion is a kind of an Italian super-group with Alfio Costa and members from many other bands. All those bands are alive and kicking. We have not heard anything from Tilion for a long time so I guess this band has been put on ice for the next two thousand years.
Listening to this bewildering album, I can understand why. This one hour long album is bewildering because it kicks like a wild horse in all direction. Take dark Italian symphonic prog and expand it into theatre music, avant-garde, jazz, space rock, Deep Purple and Porcupine Tree.
The music has been created with plenty of guitars, Italian vocals, bass, drums, keyboards, flutes, saxophones and harp. The sound is contemporary and it does not tries to go retro back to the 1970s.
I am all for variations. But this album is not particular organized and it feels like it has been put together in a haphazard fashion. There is no good tracks here either and I am left floundering in the wake of this album.
Nevertheless, this is a decent album which may appeal to those who likes overly eclectic music. I like eclectic music, but the quality is not here on this album.
2 points