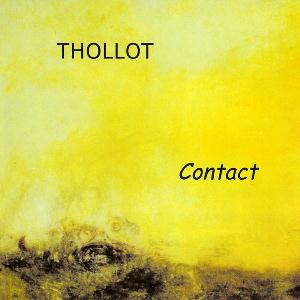 The second and so far final album from this French guitarist and keyboardist who later released albums under the Scherzoo band name. Francois has got the rhythm section from One Shot on this album too. Together, they are a three piece band.
The thumping bass and the drums gives the game away and that straight away. Zeuhl, it is. The keyboards also joins the rhythm section here. It also carries the melodies together with the guitars.
All together, this is a minimalistic zeuhl album without the big sound and drama the likes of Magma and the Japanese & Italian bands gave us. Contact was recorded by a three piece band with four instruments. Besides of zeuhl, there is also a lot of Soft Machine'ish music here too. Jazz is never really far away from the sound here.
The result is a very good album with a bit of a different take on zeuhl than the likes of Magma. It is still an album well worth checking out. Do that.
3.5 points