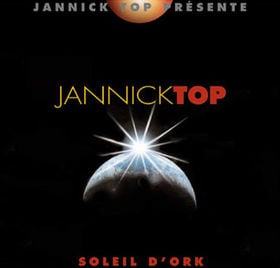 The Magma bassist tries out his own wings on this, the first of his two albums.
Jannick Top comes from France and has been central in the zeuhl genre for a long, long time. So it was about time he solo debuted with this album back in 2001.
We are deep into zeuhl territory with this album. The opening songs are very Magma like. A bit stripped down Magma, I would say. The bass, some droning vocals and some female vocals are there. Ditto for the very much zeuhl like song structures. It is a bit one dimensional. But it still catches my attention.
The album veers more into avant-garde ambient for a while. A soundscape not too bad. Nevertheless, I still get this album-filler impression of those soundscapes. The final part is much more interesting with variations of the theme "zeuhl songs".
The end result is a good zeuhl album which is not up there with the best zeuhl albums. It is still an obligatory purchase for all zeuhl fans despite of this album being short on great stuff. It is recommended.
3 points