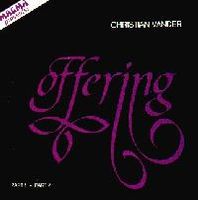 Christian Vander's band during the pretty long Magma break.
Offering continues on from Magma's (weakest) Merci album and develops that project further into more jazz land. Obvious references are Magma, John Coltrane and Gong, believe it or not. There is a lot of Gong influences, both Allen and Moerlin, on this album.
Offering I offers up a lot more dynamic zeuhl and Magma than the other part on this album; the more pastoral jazz tinged final half of this album. Christian Vander is doing his chants and they are supported by his own drumming, bass and a wide variety of other instruments.
This album is not as full on zeuhl and aural assault as the Magma albums. Offering is a Magma-light band on this album, at least. I am not entirely won over by the material here either. This is a good album though. But I prefer Magma to this.
3 points