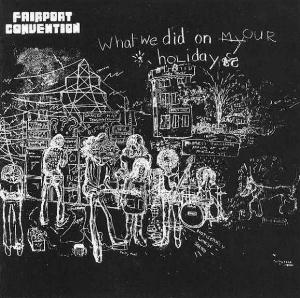 The second album from this band.
I watched an one hour long TV programme about this band on BBC last week. I have a handful of their albums, but has never bothered to listen to them. The TV programme made me dig out these albums. This is the first of them.
What We Did On Our Holidays is the first Fairport Convention album with the ethereal voice of Sandy Denny. One of the finest voices ever to come out of the rock/folk/jazz scene. I mostly know her from the Robert Plant duet The Battle of Evermore from the Led Zeppelin IV album. A truly wonderful song. Her vocals for Fairport Convention and on this album is also truly remarkable. The same goes for Richard Thompson's guitars. There are two geniouses at play on this album. Sandy Denny and Richard Thompson.
Unfortunate, the songs here are not that great. Not in the beginning. The best song by many miles is She Moves Through The Fair. Sandy Denny's vocals here is excellent and gives me goosebumps. That song and the two remaining songs Meet On The Ledge and End Of A Holiday is truly great songs. In particular Meet On The Ledge. The rest of the songs are decent to good.
I would still recommend this album though because it showcases a bloody good band. A band who is still going strong and deserve all plaudits coming their way. I will listen to the four other albums and perhaps raid Amazon for more albums too.
3 points