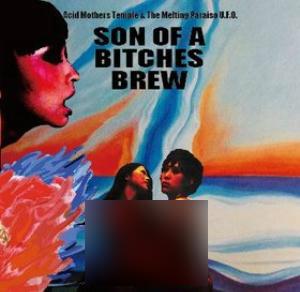 The full band name of this Japanese band is Acid Mothers Temple & The Melting Paraiso U.F.O. This album is their fifthy second (52nd) album since 1997. Studio albums, that is. Add some live albums and EPs too and you get the picture.
The band name may give the game away. This is space rock. Not only space rock. Improvised
outer
space rock. I have never heard a more spaced out album in my life than this album. The album title is a reference to Miles Davis classic Bitches Brew album. Acid Mothers Temple & The Melting Paraiso U.F.O's tribute to this album is an all out assault on this album which at times sounds like Tibetean monks and their horns. The whole album is total chaos with not much structure at all. Woodwinds, guitars and keyboards goes totally for it for the whole 78 minutes. Which explain why they have got 52 albums out of this formula. A free-space rock formula.
78 minutes is an overkill and a very challenging listen to say at least. This album is fun and a jaw dropper for the first half of this album. An album which is an aural assault throughout. This is by far the most spaced out album I have ever heard and it is visiting parts of the universe no man has ever glimpsed. That makes this music pretty funny for a while. For forty minutes, that is. 78 minutes is far too much for me.
This is a decent album and a novelty experience. My life will never be the same again. That is all I can say about this aural assault. Space rock fans should check out this album though.
2 points