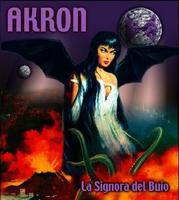 The debut album from this Italian band. A side project of The Black, a doom metal band. Akron is the brainchild of Elio "Akron" Nicolini, the bassist in The Black.
The music on La Signora del Buio is pretty dark too. Dark as in a dark splatter movie. It is also pretty heavy and theatrical with a lot of haunting soundscapes. The music is performed with mainly a lot of Hammond organs and other keyboards. They are supported by some guitars, bass and drums. That and some vocals of the theatrical sort. They are a bit one dimentional brutal and screamo like at times.
The music is good throughout. The music is not an easy ride, though. This is not easy listening stuff. Neither is it particular great music either. It feels a bit light on contents and is has too many cliches for my liking. It is a good album though and on the heavy fringe of the Italian prog scene.
3 points