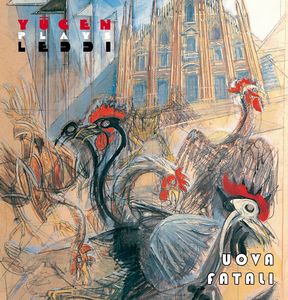 The second album from this Italian chamber avant-garde orchestra.
Orchestra is the right word here as the band combines the woodwinds and strings from a classical music chamber orchestra with electric guitars, bass and drums. Yugen is more a classical orchestra within the RIO avant-garde genre than a rock band.
The music is not easy to digest. Avant-garde never is. But this genre gives me a lot more brainfood and pleasures than most other genres. On this album, the band is playing music from Tommaso Leddi, one of the members of the legendary Italian RIO band Stormy Six. A band who has inspired the whole avant-garde genre. Hence this album.
Uovo Fatali is a forty-eight minutes long album and it is an album with some melodic avant-garde. It took me a long time to really get this album and I am not convinced that this is a masterpiece either. It is not. It is a good album though where the electric guitars are playing in harmony with classical music instruments. The music is not particular dark either. Neither is it claustrophobic. The tone is light and gentle. It is a good album well worth checking out.
3 points