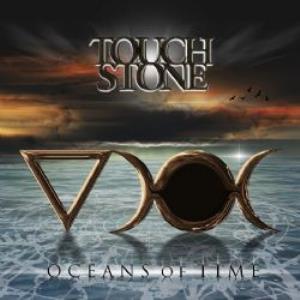 The fourth studio album from this English female fronted prog rock band.
Touchstone is one of the better female vocals fronted prog rock bands in the UK and have been that for a long time. An album from them is eagerly awaited/anticipated in my household.
The band continues from where they left it at their previous album The City Sleeps from 2011.... with some notable changes. Rob Cottingham and Kim Seviour was sharing the lead vocals duties on their previous three albums. On Oceans Of Time, Kim is now doing all the lead vocals and Rob is a bit pushed in the background. He is still very much with us on the keyboards though. I also think the band has shed themselves of some of the most generic prog metal stuff. They are a bit more clean prog rock on this album.
That aside, the band plays on as they did before. Kim does a great job on the vocals. The songs are a bit more elaborate this time around too. The band is, sorry about the pun, progressing on this album. The danger is that they are now one of the many bands with female vocals. But this scene is not as big as I thought it would become four years ago. In any case; the songs on this album would not have suited the Rob & Kim dual vocals from the previous albums.
The end result is still a very good album which very much pleases me. I think their status is cemented with this album. It is an album I recommend.
3.5 points