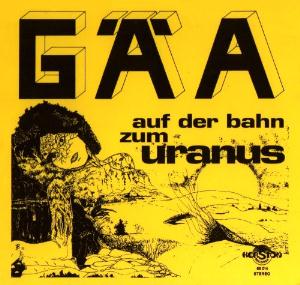 The debut album from this German band who released two albums in two years before they were disbanded.
Gaa was a krautrock band on the more rock end of the spectrum. Psychedelic rock in other words. The sound is typical gritty krautrock. Ditto for the music which is dominated by fuzzy electric guitars, piano, Hammond organs and German vocals. Add bass and drums too and you get this album.
Uranus is a very strong opening track. A rather spaced out track too with some great Hammond organs. The best track on the album. The other tracks are more songs orientated, verse-chorus-verse. There are a lot of very interesting small Hammond organs and guitars details here. Fans of early Deep Purple will find a lot of great stuff on this album. Ditto for krautrock fans for whom this album is close to being an essential purchase.
I really like krautrock as much as I like most other prog rock associated music styles. Well, krautrock is progressive rock. My main gripes against this album is the lack of any great songs and the too much songs focused music here. I like my krautrock spaced out into outer space. This is still a good album well worth checking out.
3 points