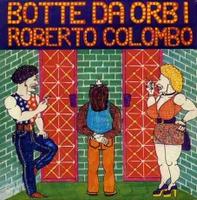 The second and so far final album from the keyboards player in Le Orme.
Hence, this is an album in the Italian prog rock tradition. Loosely speaking, that is. Roberto Colombo is very much threading into the avant-garde fusion territory on the half an hour long Botte Da Orbi. Not to mention; Canterbury prog.
Take some of Gong's weirdest moments, translate it to Italian music and you get this album. That means funk, fusion and avant-garde. There are some mad mental asylum type of Italian male and female vocals here. Add a lot of woodwinds, a very funky bass, percussions, drums, keyboards and some guitars to the mix too.
The result is actually good, as mad as it sounds. This album is funny, brings a smile to my face and has some interesting details. It is never dull though. Even the potty plants in my office think the music is funky. It is a weird album, but still recommended.
3 points