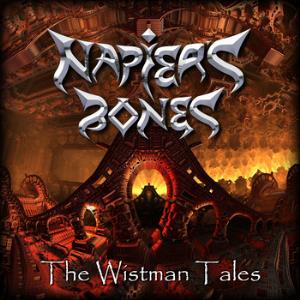 The debut album from this British duo.
Napier's Bones is Nathan Tillet on vocals and Gordon Midgley on all instruments. We can hear sounds of guitars, keyboards, Moog, Melloron, drums and bass here. Most of it computer generated, is my guess.
Napier's Bones was touted as the great white hope in prog rock when this album was out. There was some hype around them. Their so far three albums is also
free downloads from here
.
The artwork looks great. All their artworks is great.
ProgArchives has listed them
as a crossover band.
I don't disagree with that.
The Wistman Tales is a sort of a concept album and it is in this respect very much in the classic prog rock tradition. And the band is very much trying to put their own stamp on classical progressive rock on their albums. At least on this album. Thumbs up !
Some of the music has this Moog and Mellotron in the background with some long and lingering guitar solos. Classic prog rock.
The opening track A.D 1069 has a great prog folk feel to it too with a story about the long gone past of England. The rest of the album has a much more symphonic prog feel.
The sound of this album is contemporary. But this is still classic prog rock with great influences from prog folk and symphonic prog.
I rate this as a good album and one well worth checking out. It is a most definate a obligatory download. Give the band some money too when downloading.
3 points