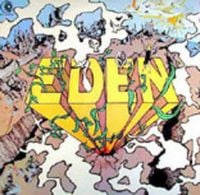 The one and only album from this Canadian band.
This band must not be confused with the German folk rock band of the same name.
The band was a quartet with a lineup of drums, keyboards, bass, guitars and vocals. French vocals.
The band was from Quebec and a part of the rather large and great Quebec scene back in those days. A scene who also included Maneige and Harmonium.
It is pretty obvious that their main inspirations and references are the likes of Atoll, Ange and Yes. In particular Atoll as the vocals is pretty similar to Atoll's vocals and the music is in the vein of the two first Atoll albums. The band is therefore
listed
in ProgArchives as a symphonic prog band.
The music here is very much French symphonic prog with a lot of French folk music influences incorporated on this thirty-five minutes long album.
The music is pretty laidback without the big bombastic symphonic explosions. There is still enough good details here to make this an interesting album.
The songs are not that long either with some rather short and slightly avant-garde influenced songs at the end of this album.
The music is also pretty much keyboards dominated and includes some baroque sounds too. The keyboards has a special sound.
The sound quality is pretty good and I have no problems with the sound. The songs are a bit meandering. The songs simply not really that great or even good.
This is therefore an album somewhere between decent and good. It is well worth checking out, though. You may like it better than I do.
2.5 points